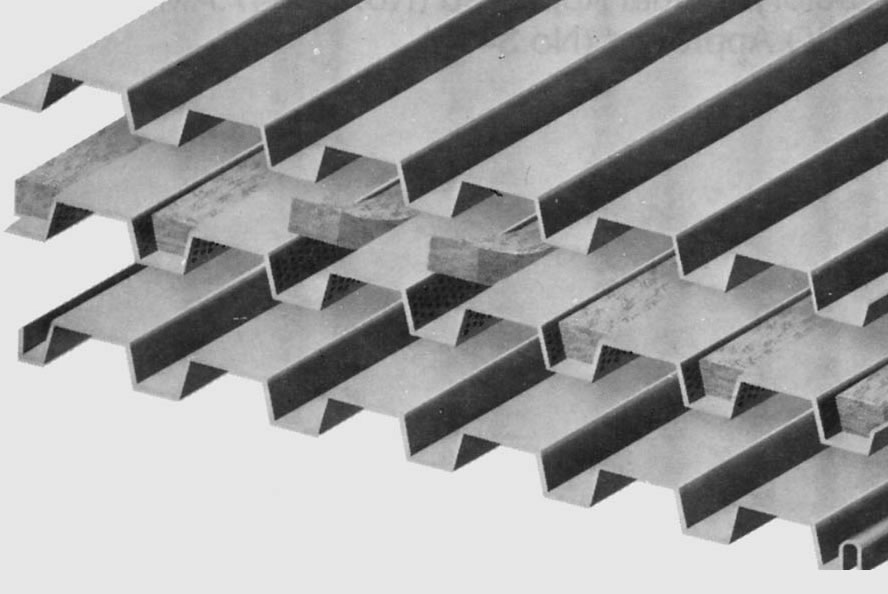 Roof Deck is available in both fluted and cellular configurations, 1-1/2, 3, and 4-1/2 inch depths, 6 or 8 inch rib. Selected coatings and colors, up to 1.0 mil thick, permit innovation and flexibility for special aesthetic or performance conditions. Most sections are also available as acoustical decks to assist the designer in achieving the required noise control.
Brown-Campbell Roof Deck is the ideal product for many non-residential roofing needs. It is designed for pitched, flat, and arched construction roofs and therefore is ideal for many applications including arenas, auditoriums, malls, schools and supermarkets. Diaphragm design with proper attachment patterns can provide lateral stability, reducing the need for structural bracing. It is the product of choice because it is lightweight, strong, economical and easy to install.
Roof Deck is manufactured in three primary types: standard, acoustical, and cellular. Acoustical roof deck is produced from standard roof deck amended to include perforations along the webs of the ribs. On the job site, rolls of sound absorbing fiberglass are placed between the perforated ribs. NRC ratings of .85 to .95 are possible, depending on the insulating product and the panel type utilized. Cellular acoustical roof deck has a perforated bottom plate. Sound absorbing fiberglass elements are placed in the cells for NRC ratings of .65 to .90.
Brown-Campbell Roof Deck is available in two finishes, painted and galvanized. Painted roof deck is manufactured from steel conforming to ASTM A611 and galvanized roof deck is manufactured from steel conforming to ASTM A653, both finishes at a minimum 33 ksi yield. Galvanized roof deck is manufactured with a standard coating of G-60, additionally a coating weight of G-90 is available upon request.