Safe-T-Grid® Aluminum Grating is a patented design that takes advantage of the special properties of aluminum to create a unique walking surface. It is ideal for high pedestrian traffic areas.
Safe-T-Grid® is based on bearing bars comprised of a specially designed and manufactured T-Bar aluminum extrusion. This is a highly efficient structural shape that yields exceptionally high load bearing ability for the amount of aluminum used - resulting in a product that is high strength, lightweight, and economical.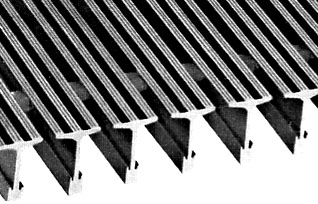 Plain Surface with Fluted Pattern

Non-Slip Abrasive Coated Surface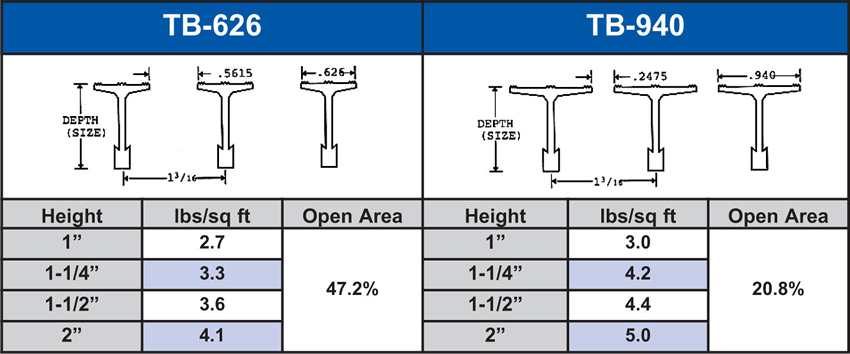 How To Order
Safe-T-Grid® Aluminum Grating
Item No: TB-626 or TB-940
Quantity: Number of pieces required
Material: Aluminum, 6063-T6
Width: 36"
Height: 1", 1-1/4", 1-1/2", 2"
Length: 10', 12', 20' or cut to size
Surface: Plain with fluted pattern, Non-Slip
Finish: Mill (standard), Anodized, Duranodic
Accessories: Type 50 Fasteners
Cutaway:
Frame, Hidden Fastener, Grating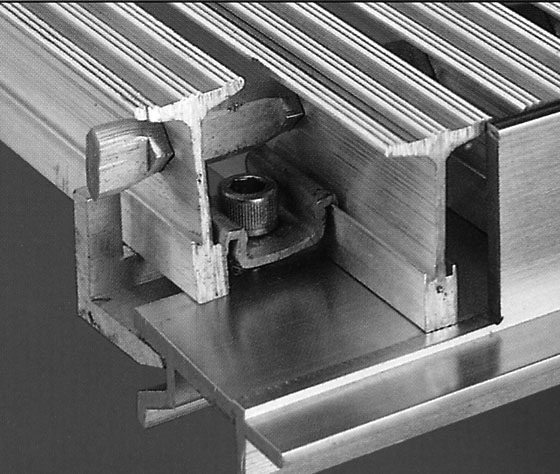 Type 50 Fastener
Fastener is hidden, does not protrude above surface (see cutaway photo below), and therefore presents no tripping hazards. Fasteners lock into the bottom flange of the bearing bars, clips can be tightened from above with a screw driver or an allen wrench making removal easy to allow access to covered area, and just as easily reinstalled - all from above the grating.
Fastener Side View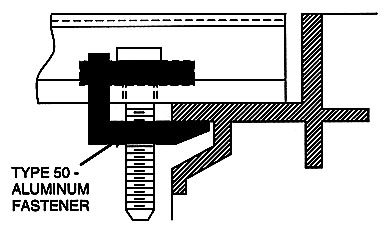 Fastener End View