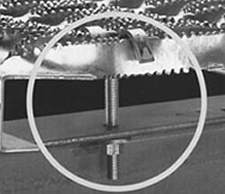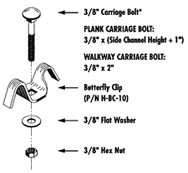 Catalog No. H-BC-10. For Stainless Steel use with 3/8" square-shank carriage bolts, nuts and washers obtained locally.
Assembly:
Align Heavy Duty planks on I-Beam or other anchoring cross-member.
Mark the I-Beam for drilling purposes under the first slot nearest the end of plank. Drill a pilot hole.
Remove plank and drill a finish hole.
Replace plank. Place butterfly clip in plank over the drilled hole. Run bolt through butterfly clip and drilled hole. Tighten with washer and nut until secure.