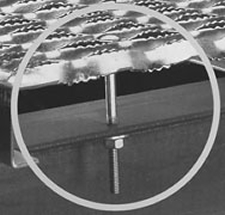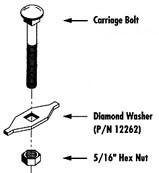 Bolt and nut must be ordered separately:
Plank Carriage Bolt: 5/16" x (Side Channel height + 1")
Walkway Carriage Bolt: 5/16" x 2"
Hex Nut:5/16"
Catalog #12262 is shaped to fit in diamond opening. Punched to receive 5/16" carriage head bolt with square shank.
Assembly:
Align plank on I-Beam or other anchoring cross-member.
Mark the I-Beam for drilling purposes under a slot near the end of plank. Drill a pilot hole.
Remove plank and drill a finish hole.
Replace plank. Align diamond washer over the drilled hole. Run bolt through diamond washer and I-Beam. Tighten with washer and nut until secure.