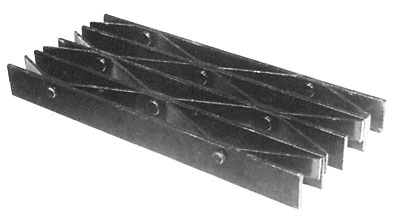 Riveted Grating is the first choice by many engineers for many applications. Compared to welded or swage-locked grating, riveted has a greater load carrying capacity for the same span and depth of grating. Reticulated bars, riveted to the bearing bars increase resistance to buckling caused by vehicular loading conditions.
Available in light duty carbon steel, heavy duty carbon steel and aluminum, riveted grating uses individually cold-pressed rivets through hydraulically and mechanically operated riveting tools that provide bearing bars and reticulated bars sealed together as a high-strength joint, freeing the grating from the residual stresses that cause warp and joint failures.
Riveted Grating is ideal in applications using rolling stock and wheeled equipment, especially with casters, since the reticular bars provide a smoother surface. It is also very popular for use as flooring, ramps, docks and ideally suited for walkways because of its added walking comfort.
Abrasive Coating Process
Light Duty: Light Duty Carbon Riveted Grating includes bar sizes of 3/4" x 1/8" up to 2-1/2" x 3/16". It is primarily used for pedestrian traffic and for light, tired, rolling traffic such as carts, dollies, and hand trucks.
Heavy Duty: Heavy Duty Carbon Riveted Grating includes bar sizes of 2-1/2" x 3/16" up to 5" x 3/8". It is primarily used where heavy vehicular traffic is utilized including industrial plants utilizing fork lift trucks, highways, and bridges.
Aluminum: Aluminum Riveted Grating offers a corrosion resistant alternative to carbon. It is lightweight and strong. It is highly utilized in corrosive environments including food/beverage preparation, water vessels, and sewage treatment facilities. Sizes parallel Light Duty Carbon Grating provided above.
Stair Treads: Offered to match our full Riveted Grating line.
How To Order
Call 1-800-472-8464 and the Brown-Campbell service center closest to you will immediately assist you with your requirements. Your order will be expedited more quickly if you have the following details available when calling.
THINK ABOUT:
Application or use of product (including environment)
Physical requirements: loading, open area, slip resistance
PLEASE SPECIFY:
Riveted Grating
Description of Grating:

Type of Grating
Bearing Bar Spacing
Cross Rod Spacing
Bearing Bar Size
Plain, Serrated, or Slip Resistant Surface
Material Type

Drawing Including:

Area to be Covered
Span (bearing bar direction)
Method of Support
All Critical Dimensions

Anchoring Devices
Finish
Shipping Instructions
When ordering Stair Treads also provide Nosing Type and Number of Treads.
Carbon Steel Bar Grating
R= Light/Heavy Duty Riveted
RF= Heavy Duty Riveted with Filler Bars
Aluminum Bar Grating
AR= Aluminum Riveted